As a business owner, you have to have eyes and ears everywhere, making sure your business is running smoothly and most importantly, keeping your customers happy. You work hard at your business, building your brand and tending to your customers' needs.
To help lighten your workload and to keep your business growing, we have added a new notification feature to our Social Reviews app. You already know how important reviews are to your business, a great way to keep your finger on the pulse of how happy your customers are, and what they are saying about your business or products. Having to constantly check your pages for new reviews can take quite a bit of your time, but now, you don't have to.
Our new feature, the review notification email feature is here to ease you of that burden, so you can better concentrate on other things.
What do you have to do to access this new feature?
Nothing, it is already activated for you. Here's how it works, the next time you get a new review on the social pages you connected to your Kudobuzz Social Reviews app, you automatically receive an email notification, or when you add a new social page to the app and all your reviews have been pulled into the app, we send you an email to let you know the process is finished, so you can go about approving and displaying them to bring in more customers.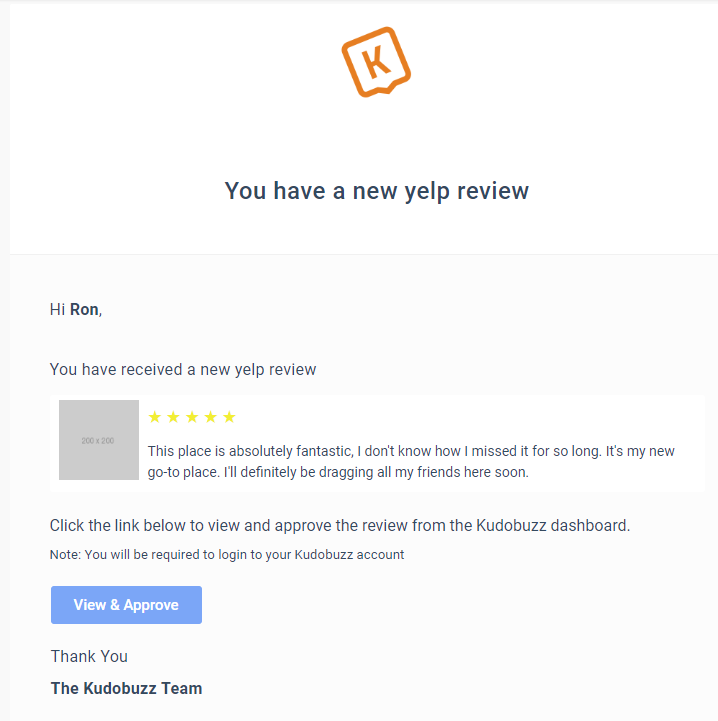 Not only does this new feature save you the hassle of scanning your pages for signs of new reviews, it also makes it easier to quickly see any bad reviews you may get, so you can attend to them and solve any issues, turning them into good reviews, your customers will appreciate the quick reply.
What do I do when I am getting too many notifications?
If you have a vibrant business, with a lot of activity on your social media pages, the reviews will most likely be pouring in, this can be very good for your business, however, it also means that you'll be getting a lot of email notifications. If you don't want the constant activity and notifications flooding your email, you can turn the feature off in your email settings.
So you can take your weekly review checks off your schedule put something else in its place, we've got you covered on that front.
---