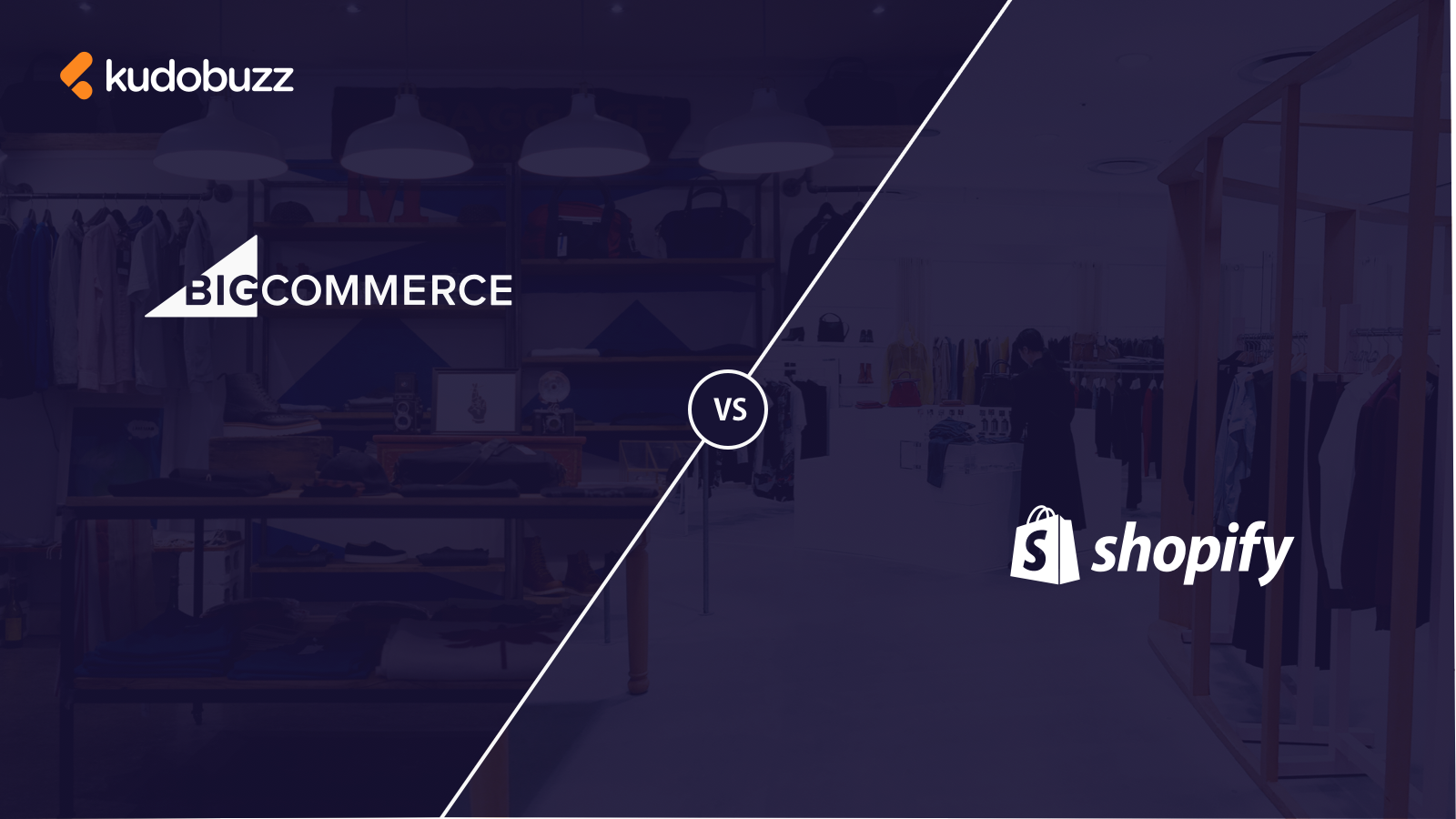 Choosing The Best E-commerce Platform — Shopify Vs BigCommerce
All in all, in terms of SEO, BigCommerce offers slightly better features and functionalities than Shopify.
Starting an eCommerce store can be quite challenging as a beginner. There's always a number of competitive forces to consider including the kind of eCommerce platform that will be suitable for your business.
Your platform of choice should enable you to create an eCommerce website that looks awesome, appeals to your customers, communicates your brand message, and most importantly, fully responsive and optimized for SEO.
Shopify and BigCommerce might zoom into sharp focus when it comes to selecting an eCommerce platform because of their popularity and their impressive features.
In this write-up, I will show you how SEO functions differently on both platforms. In addition, you'll learn all there is to know about the two platforms.
Now let's buckle up!
BigCommerce and Shopify Definition
If you're new in the eCommerce business, you may be wondering what BigCommerce and Shopify are all about.
Well, both platforms are software as a service (Saas) online store builder tools that allow merchants to build their online stores from scratch on their own. Both BigCommerce and Shopify were created with the basic idea of helping merchants without technical skills in design or coding to build their stores.
All it takes is some professionally-taken pictures of your products and of course, you need to have a good eye for design.
Both platforms are hosted on cloud and allow merchants to have access to a wide range of templates to enable them to upload products, set prices and manage their stores. However, BigCommerce is more suited for large retail brands looking to scale while Shopify is perfect for online stores of all shapes and sizes.
The good news is that merchants can manage their store from anywhere so long as they have an internet connection.
Also, both platforms have excellent customer service providing 24/7 support, willing team who are ready to help via phone, live, email, etc. Merchants can enjoy other benefits from both platforms including access  to experts like designers, marketers, developers; access to free and premium themes; offer unlimited products/file storage and bandwidth; have an outstanding self-reported site uptime; responsive sites etc.  
You can refer to this blog post on what is Shopify and how does it work for more insight about Shopify.
SEO Factors: Bigcommerce Vs Shopify
Now let's delve into how both Bigcommerce and Shopify perform in terms of SEO.
Nearly 97 percent of consumers search for products online before making a purchase. But for your products to be easily visible to your customers, your store needs to be optimized through a process called SEO.
A good SEO checklist will optimise your content and ensure that your customers find your store and stick around it for long because  of how fast your website is. This will drive organic traffic directly to your store leading to more conversions.
Generally, Shopify and BigCommerce perform perfectly well when it comes to SEO. They both permit merchants to edit their product title and descriptions, create 301 page redirects with ease, as well as generate the sitemap for their sites.
Despite this, both platforms respond differently to different components of SEO. The following highlights how the two platforms perform in terms of SEO:
Rigid URL Structure
Shorter and intelligible URLs are good for SEO. According to Backlinko, "Shorter URLs tend to rank better than long URLs."
For this reason, having fully editable URLs for the sake of optimization is much better, and that's where BigCommerce has some strength above Shopify.
BigCommerce allows users to create Google friendly or shorter URLs with ease than Shopify. Plus, it allows merchants to have full editing of URLs. BigCommerce integrates with Google Merchant Center, allowing users to promote their products on Google Shopping.
But when it comes to Shopify, changing file names is not easy. With Shopify, you have to force some strings. Therefore, you should get your file names correct before you upload them. This is because if it becomes necessary to change an image file name, then you may have to delete your existing image and replace it with a re-uploaded version with the right name.
For instance, if you're selling men leather shoes, make sure the image you upload is called "men-leather-shoe.jpg" instead of something like "xxxxx.jpg."
Even though with Shopify, merchants can customise their URLs to contain keywords, as well as make them relatively short, the URLs often don't end up perfect. This is because the platform adds prefixes to pages, blog posts and products, i.e.,
/pages/ before pages
/posts/ before posts
/products/ before products
That notwithstanding, with Shopify you can edit your page title regardless of whether you're working with a static page, post or product. Once you relocate to your page, post or product in your Shopify dashboard, just scroll down to the bottom and click on the "Edit website SEO" button and edit the page title along with your metadata and URL.
AMP
Google Accelerated Mobile Pages (AMP) is an open-source project to display extremely fast-loading version of your content in mobile search results by using a specific framework for a page's code.
It's estimated that mobile account for 75 percent of all web traffic in 2019. This means that improving better experience for mobile boosts ranking, as well as satisfy the needs of customers who visit your site via mobile.
With BigCommerce, AMP is enabled automatically on all free templates. Even some premium template are AMP-enabled, and the good part is that, you can choose what type of content is enabled for. You can enable Accelerated Mobile Pages for your BigCommerce pages and posts.
The only caveat is that, in picking your BigCommerce template, make sure to pick a template that supports AMP. You can view AMP-friendly templates in the BigCommerce theme store by checking the "AMP Enabled" filter.
However, when it comes to Shopify, it doesn't have AMP built-in. However, merchants can get the app from the over 2,400 apps from Shopify app store to enable AMP for their Shopify pages and posts.
PageSpeed And Load Time
Your page's loading speed is a critical component of SEO.
According to a study, 1 in 4 visitors will leave a site if it takes more than 4 seconds to load. This follows that merchants with fast websites are better positioned to convert customers than others with slow sites.
As a merchant, how long it takes for a content to rank should be one of your considerations in the choice of a product.
Based on an analysis of the top ten ecommerce platforms with the best loading time, it was discovered that both BigCommerce and Shopify load very fast.
According to the data, Shopify's loading time is slightly ahead of BigCommerce. All the same, BigCommerce average time isn't bad at all. From the data, Shopify came first with sites loading at an average time of 1.3 seconds, while BigCommerce sites have an average load time of 2.2 seconds.
However, per the same data, BigCommerce is slightly better in the desktop angle when it comes to Google PageSpeed for data on the mobile and desktop speed score, as shown on the data above.
Is your store slowing down? Kindly refer to blog post on how to improve the speed of your website with Kudobuzz SEO
Blog
Content is the engine when it comes to SEO. Content creation leads to 434 percent more indexed pages than websites without updated content. Hubspot also asserts that companies that blog receive 55 percent more web traffic to their site.
This means creating high-quality content is the most cost-effective way of driving your traffic to your store leading to high conversion.
Your platform of choice should therefore, respond friendly to content creation.
BigCommerce and Shopify both have in-built blog functionality that allows merchants to easily create simple blogs that rank well on search engines. Merchants can further import posts from an existing blog into both Bigcommerce and Shopify, using the Bigcommerce 'Blog Sync' and Shopify Blogfeeder apps respectively.
Despite their content creation-friendliness, the blog capacity enabled by both BigCommerce and Shopify are basic compared to what you'll get on WordPress (WP).
For example, BigCommerce does not have RSS feed and Shopify too does not have blog categories. However, merchants can integrate WP if they want.
All in all, in terms of SEO, BigCommerce offers slightly better features and functionalities than Shopify. You can refer to these blog posts on SEO checklist for Shopify beginners and how to optimise your BigCommerce store for SEO for extensive details on how to optimise your store for search engines on either platform.
Non-SEO Factors: Shopify Vs BigCommerce
That said, if you're lacing your boots to enter the eCommerce world, it's better to have a better understanding of the two products. Let's take a look at a few of them:
Data Protection
Data theft is a growing global concern when it comes to online transaction. It is estimated that about 4.5 billion records were exposed as a result of data breaches in the first half of 2018 alone.
As a merchant, you want to go for a product that guarantees a total safety of your customers data. Therefore, you wouldn't want a product that's prone to data breaches.
When it comes to data protection, Bigcommerce proudly says that they comply with all international data protocols including the European Union's General Data Protection Regulation (GDPR) and all BigCommerce servers are PCI DSS 3.0 certified at Level 1 which protects against credit card data breaches.
BigCommerce also have other data security measures including perimeter and server-specific firewalls, file integrity scanners, intrusion detection software, 24/7 human monitoring, DDOS mitigation solution (for Enterprise plan), and fraudulent transaction protection provided by Sift Science.
BigCommerce also gives all its customers unlimited storage capacity and bandwidth with 99.99 percent uptime guarantee.
Shopify is also GDPR-compliant. In addition, all stores hosted on the Shopify platform are automatically Level 1 PCI DSS compliant, hence, are protected by an automatic backup system. Users can file a report to Shopify through HackerOne page whenever they (users) suspect that there is a data breach for swift action.  
Even though both platforms are making efforts to secure the data of their customers, you need to enhance your data security system by having your own privacy policy, set cookie notices, and get consent before signing people up to your mailing list.
Pricing
As a merchant, you would want to save cost and therefore, you would want to go for a product that offers the best value at a reasonably low cost.
In terms of pricing, both BigCommerce and Shopify have multiple subscription options that satisfy the needs and preferences of customers.
However, you can start with Shopify's 14-day free trial or BigCommerce's 15-day free trial.
Now let's take a look at price packages Shopify offer:
Even though Shopify Lite plan goes for as low as $9 per month, the truth is that the Shopify Lite plan is not exactly a real online store with a shopping cart.
Nonetheless, it helps users to sell on Facebook, accept credit card payments, manage inventory using Shopify's backend software and use Shopify's Buy buttons.
The final package for Shopify users is the Shopify Plus. it's more of an enterprise-level system and has a robust storage capacity of 200TB. Shopify Plus is best suited for users who want to focus on things like marketing and design, as opposed to order management.
Apart from the Shopify Lite plan, the rest are great packages for merchants that give users features such as gift cards and professional reports, lower credit card rates, and more advanced Point of Sale (POS) tools.
These plans come with a range of features as and when you upgrade from one package to another in order to scale up your business. The top tier plans come with extra features to meet the growing needs of your eCommerce business.
BigCommerce also has a relatively similar plan for its users. BigCommerce's pricing plan options include: Standard ($29.95/month), Plus ($79.95/month), Pro ($249.95/month) and an Enterprise plans which are based on customers online sales.
But just like Shopify, BigCommerce users can launch their store irrespective of the plan they opt for, but upgrading to a higher plan gives users better tools/features to help grow their businesses. For example, users on the Standard plan can't get abandoned cart recovery.

BigCommerce also has an enterprise-level plan for users who need higher bandwidth, high-volume API calls, priority support, or capabilities for multiple stores.
So in terms of pricing, BigCommerce and Shopify appear to be on the same page. The only difference between the two is the top tier plan where BigCommerce costs $50 more.
But the deal-breaker lies on the transaction fees. Apart from the credit card processing fees that both collect, Shopify also charges transaction fees on every sale that you make if you don't own its payment processor called Shopify Payments.
Another factor is that BigCommerce has built-in features. This means the price you see is what you pay at the end. When it comes to Shopify, users can add third-party apps which can shoot up monthly charges.
You can refer to this blog post on 12 best payment gateway solutions for eCommerce merchants.
Template
Templates or Themes refer to the designs of a store or the way an online store looks. Every merchant desires beautiful themes that come at a reasonably low cost. Great design for your store will translate to lower bounce rates, higher time on site, and even higher conversion rates.
Both BigCommerce and Shopify have beautiful and customizable templates for users. Some of these templates are free and a dozen premium (paid) options. The premium options on Shopify cost between $80 to $180. BigCommerce also has a dozen mobile-friendly premium themes with prices ranging between $120 to $245.
However, Shopify appears to have more unique and varied free templates while BigCommerce's free templates look quite similar.
Another sticking point that separates the two is that even though BigCommerce is more flexible in switching themes, it's more industry-specific. Shopify, on the other hand, appears to have a better all-round design that offers more choices to users.
But, comparing Shopify to Bigcommerce on appearance, Shopify looks quite ahead with more updated templates and a slightly lower median price point.
In sum, both BigCommerce and Shopify offer high-end eCommerce solution to users. They both offer users unlimited access to sell products, manage their inventory, process credit cards, collect and show ratings and reviews, market their products, have zoomable product images, calculate tax, etc.
Help us publish content solutions that serve value for your eCommerce business by leaving your views at the comment section below.
Call To Action
If you want to read more content on how to succeed as an e-commerce owner, sign up for our weekly newsletter below to receive resources and tips on how to increase sales and revenue straight into your inbox.