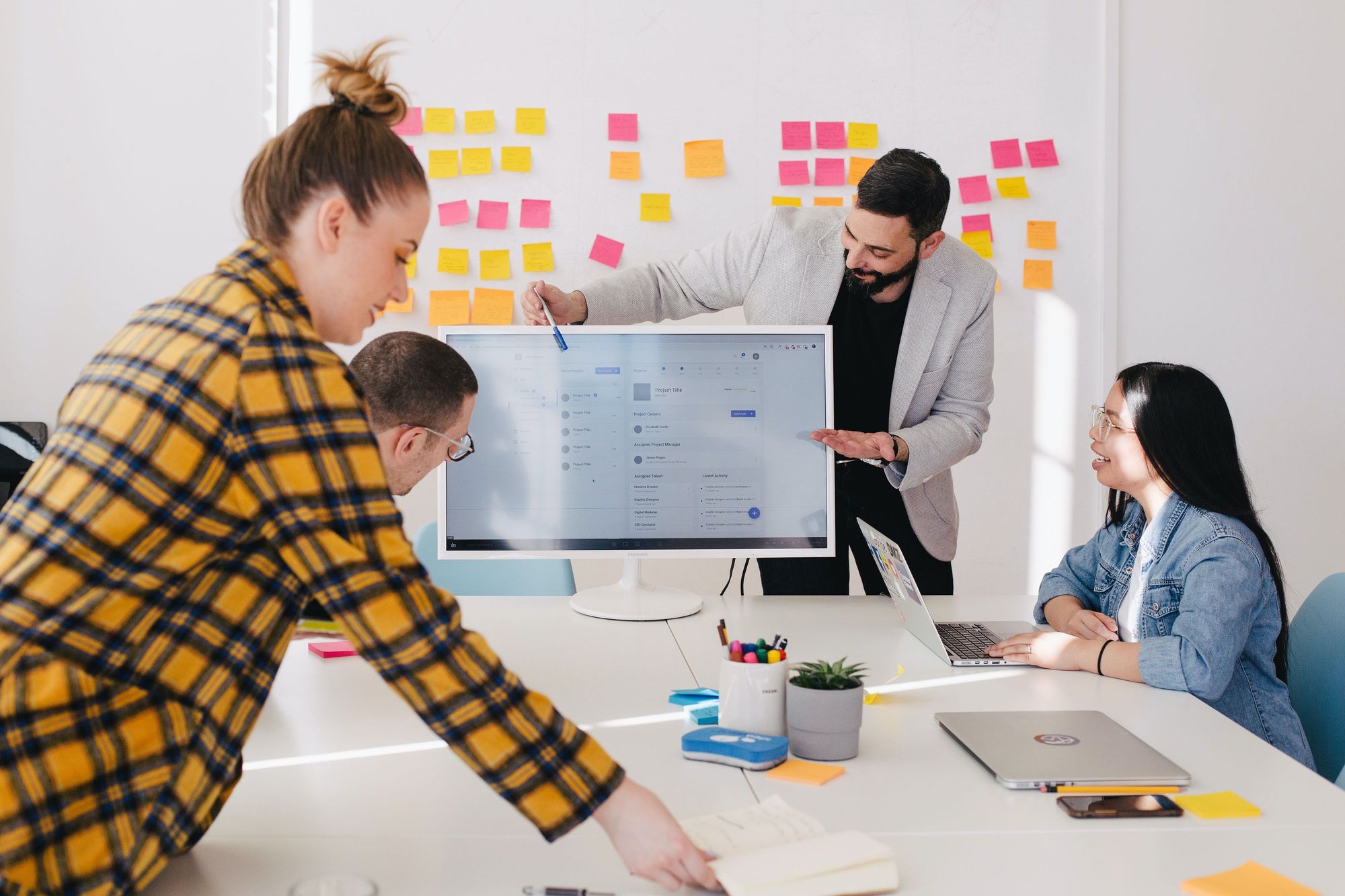 How To Grow Your Business With Customer Feedback
Customers are the bedrock of every business. For small businesses especially, every single customer is important to the sustenance of the business. This is because small businesses usually have a small customer base. On the brighter side, small businesses have the privilege to build a better relationship with customers, create a personal connection with customers, handle their needs effectively and pay attention to them in the way large companies cannot afford to.
"We see our customers as invited guests to a party, and we are the hosts. It's our job every day to make every important aspect of the customer experience a little better. - Jeff Bezos
Ideally, small businesses must collect feedback from their customers. Customer feedback shows what is working and what should be better. It gives business owners an insight into the customer's actual experience.
Undoubtedly, the needs of your customer will evolve with time. Once you collect customer feedback you never stray too far from the needs of your customer even if those needs evolve. To meet their expectations, you need to get their opinions. To render an amazing service to your customers, ask them what they want.
Customer feedback is essential to serving customers better, aiding as social proof to new visitors and stamping the credibility of your business.
"Forget about your competitors, just focus on your customers." - Jack Ma
Customer Satisfaction
Customer satisfaction is a measure of how products or services provided by a business meet, surpass or remain deficient to customer expectation. A satisfied customer can easily express how happy, not-so-happy or sad they are about your general services. The goal of collecting feedback is to find out how satisfied a customer is.
Customer Loyalty
Customer loyalty is another feature of great customer service. Loyal customers are more than repeat customers. They are the type of customers who have developed an emotional connection with your brand, become advocates for your brand and are willing to forgive you of some mistakes and service blunder.
A loyal customer is willing to stick with you for a long time and willingly give in a word for your product and company no matter what. As a business, you should seek to increase your customer retention rate and transform your repeat customers to loyal ones.
Although customer satisfaction and loyalty are great in how the world goes round, you need to put in the work to make your customers satisfied and loyal. Collecting customer feedback and incorporating the feedback to improve your products and services, and meet the ever-changing customer needs is a step in the right direction.
Why you need to collect reviews
To Garner Information on Customers
Over the years, customer feedback has become the gold to mine to become rich as a business owner. Because your customer persona is the same, general feedback received when tailored appropriately speaks for the sect of people you are targeting. Feedback will give you a deeper knowledge of your customers and their expectations.
To Determine Customer Needs and Tastes
Customers needs are constantly evolving. Exposure to new competitors and new fads among other things cause a change in the tastes and preference of customers. You need to be in touch with your customer, enquiring on what their current needs are and how you can meet them. When it comes to customer satisfaction, complacency doesn't hold. Your customers can easily change their mind about the specifics of your product or your entire product. Listen to them or else they switch to your competitor.
Reinforce Connection With Customers
Beyond repeat customers, you need loyal customers. Your customers must be willing to put in a word on behalf of your business at all times. Seeking customer feedback reinforces the connection you have with your customers and increases their sense of belongingness. Customers want to feel heard and seen. They want to know that their feelings and sentiments are taken into consideration. Make them feel important. Every positive interaction with your brand can strengthen the relationship with your customers and improve the connection.
Improve Business Processes
When you understand what matters the most to your customers, you can improve your business processes. Business processes are the set of tasks performed to achieve business goals and objectives.  Collecting feedback will help you fine-tune your products and services to meet your customers' expectations.
Make Data-Driven Decisions
Customer feedback allows you to make data-driven decisions for your business. For example, if you are looking at building a new vertical in your business, collecting customer feedback can help inform your decision. Once you can get into the mind of your customers to understand what is the most important thing to them currently, you can build your product and make your decision based on that.
Increase Customer Referral and Build A Reputation
When your customers are happy and fulfilled, they will become advocates for your business both online and offline. They will leave good reviews touting your great service and inform all their family and friends about it. In addition to this, they will share your products on social media and gladly associate with your brand.
How To Ask For Feedback
Surveys
Create a simple customer satisfaction survey with the questions you seek to ask. Encourage your customers to fill it. Use tools like Google Forms, Survey Monkey, Typeform and the like to create simple and eye-catching forms to collect your feedback. These tools make the aggregation of the responses easy. Make the questions easy to comprehend. Ask only questions aligned with your objectives and your goals. The questions should be thoughtful and open-ended so they can easily tell you how they feel. You can also use a rating scale if possible so they can assign values to your product.
Emails
Send emails to customers right after they purchase anything from your business to collect product feedback or feedback on their entire experience. You can use the Kudobuzz Reviews App to easily set and automate this process. Personalise the emails with their details and make it brief. Moreover, you can maintain an active email list where you reach out to your customers from time to time to collect feedback from them. Segment this email list into those who respond and those who don't to give you information on who is highly interactive with your business. Emails are the most personalised way to interact with your customers. When using emails to seek customer feedback, always ask for personalized responses rather than rating scale and multiple answers questions.
In-App Widget
In-App widgets help you collect feedback right from your website. When customers land on your homepage or eCommerce store, set a pop-up or widget to collect their feedback. After they make a transaction, use review widgets to collect feedback of the customer. Encourage customers to click preoccupied forms with radio buttons and ask them to leave their remarks if they want to. Using star-rating is also one quick way to collect their feedback. It has to be simple and swift enough to make them want to do it without feeling like a bother. Kudobuzz Reviews has the widget feature too and gives you the chance to install widgets on your website and receive reviews directly.
Customer Call
Make time to call your customers to ask them for feedback on your services. Speaking to them on phone gives you privy to the emotions which they cannot easily express via text or emails. Listen to their sentiments and the excitement or pain in their voices. Let your calls have an open-ended dialogue. To hear them out and collect their feedback, practice active listening. Let them go on and on about what they like or dislike about your product without you interrupting them unnecessarily. Although calls may be the most effective feedback collection next to face-to-face interviews, it is usually difficult to fix a perfect time convenient to both your customers and yourself as a business owner. Also, most customers are more likely to give you their email addresses than their phone numbers.
Customer Support Chat Conversations
Use your customer support chat conversation to collect feedback from both new customers and existing ones. If you're testing a feature or new product, try to engage them right from when they onboard your website to the end. Having a ready support person to assist customers when they land on your website gives them a helping hand to navigate your site as well as gives you an insight into how the customer navigates your website. This is a good way to test the effectiveness of your customer onboarding journey.
Social Media
Customers usually share their feedback of businesses on social media when they experience them. Although this feedback mostly lies on the opposite ends of a spectrum - totally elated or furious, this feedback can be useful. Intentionally use social media polls to ask for feedback regarding their experience with your company. If your business is active on social media, create polls in a fun way to get them interacting with your page while collecting feedback at the same time.
What to do with Customer Feedback
Analyse Into Useful and Useless Feedback
After you collect the feedback, analyse the feedback into themes such as product, customer success, usability, generally positive feedback, generally negative feedback, pricing, website usability, feature request and payment. For each theme, determine if there is a pain point the customer is trying to relay to you or the customer just wants to bash your business. Understand the data and draw some conclusions from it. If most customers keep repeating the same thing, then it reinforces what you should pay attention to. Even if the customer is impolite when giving feedback, do not dismiss it. Check if other customers feel the same way.
Use Feedback As Testimonials
Nearly 95% of shoppers read online reviews before making a purchase. Reviews serve as proof of service to new customers. No matter how well you describe your business or product, testimonials from real customers will give credibility to your business and vouch for your product. Display some of the positive feedback you received from your customers on your website to serve as social proof. Your new customers will also pick up useful tips on how to use your product from these testimonials.
Ask Customers For Referrals
After you have aggregated the feedback received, reach out to the customers who left great feedback and ask them to refer your business. Word of mouth marketing is behind 20-50% of purchase decisions. People believe the words and recommendations of their friends and families. Leverage on their trust to draw more new customers from their network in. Once you are sure these people love your product, they can easily put in a word for you if you ask them too. Offer them incentives like discounts or referral codes which gives them a sale percentage whenever someone they refer your business to makes a purchase.
Improve With Negative Feedback
For negative feedback, work on your product or service and reach back to them showing the improvement you have made due as a result of their feedback. Make it a point to let them know you have their interest at heart. Hence, a customer-centric business optimizing for great customer experience. Probe deeper if you have to but go back to the drawing board and make the changes. If the negative feedback can be resolved with a quick discount for their next purchase or an apology email from the CEO of the business, do it. As much as lies within your power, treat your customers' opinions with weight and try to win them over.
"Your most unhappy customers are your greatest source of learning." - Bill Gates
Customer feedback is relevant to keeping your customers happy and your business successful. Build a customer-centric company by throwing the spotlight on your customers, allowing them to voice their opinions, making improvements to meet their expectations and increase their satisfaction. Collecting and implementing customer feedback will help you build a product close to what your customers desire.