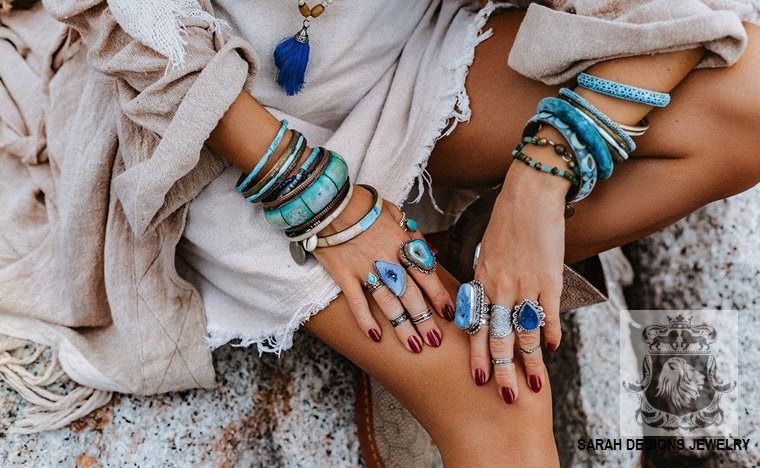 Building A Jewellery Business For Over Two Decades
The annual global sales of jewellery are expected to be totalling €250 billion by 2020, accounting for about 17% of all retail apparel spending. In addition to this, the growth of branded jewellery is expected to grow and account for a 30 to 40 per cent market share in 2020 due to an increase in disposable income and a shift in consumer shopping preferences.
At the moment, we cannot tell for sure how quickly this shift will occur especially because of the download retail trends of consumer fashion due to the COVID-19 pandemic. However, jewellery is an important aspect of fashion with a growing interest among all generations - Generations X, millennials and Generation Z.
Unlike Generation X, jewellery has ceased to be mere status symbols to serve as the desire of self-expression, individuality and self-realisation for Millenials and Generation Z. They still admire the beauty and lush of diamonds yet desire something different, personal and a reflection of their sense of self, dreams, ambitions and passions. Jewellery to them is comparable to tattoos.
Apart from self-expression, millennials and Generation Z also choose jewellery for friendship, relationships and love. Personalised engraved pieces are huge and connote the love they wish to express to their friends, family, significant other and even pets.
To the younger generation, modern jewellery must have fresh and vibrant designs and unusual gemstones with a touch of unconventional colours.
With this new consumer habits, only brands which differentiate itself through unique and distinctive designs will thrive. Normal is quickly becoming boring as the younger generation keep embracing abnormal fashion trends.
Dynamic jewellery makers like Sarah Designs Jewelry are responding rightly to the trends and demands of consumers. Since its conception in 1999,  the company has remained committed to providing varying types of jewellery to meet the ever-changing needs of customers. Sarah Designs Jewelry makes distinctively handcrafted contemporary artistic jewellery.
"My initial experimentation began, which involved being inspired my own family background and starting my business at an early age and selling my handmade line of jewellery at local artisan alley fairs over at Whistler, Nature park, community centres and farmer's market; thus Sarah Designs Jewelry was born."
In 2005, Sarah travelled to the US where she met her husband. Along the line, they both travelled to Italy to visit her husband's family. Italy is where she created some of her exclusive pieces. Over time, she took the business online in addition to her then kiosk business.
In 2017, I  wanted to take my jewellery back on the road again as I missed my travelling days and direct connection with my customers. Hence, I decided to go back to  Crafter's fairs and tradeshows. I met and collaborated with some great artisans from India to recreate all the signature pieces plus further expanded my product line to meet the demands for the tradeshow. Since then, most of my gemstones are sourced out of Canada and USA exclusively, designed and sketched which gives it the unique touch my customers look out for.
Imbued with creativity, anticipation and emotion, I and my uniquely talented artisans apply our metal-smithing skills and breathe life, energy and radiance into creating these stunning pieces of jewellery, which showcases opulence and elegance. I am proud to offer unparalleled artisanship and inimitable designs inspired by art and nature. My distinctive stone-setting and metal-alloying collaborate three key factors: talent, passion and ability to further explore the intricate art of jewellery design thus creating shimmering ornaments that assert great sentimental significance and symbolic meaning.
Sarah's products range from earrings to bracelets, rings, jewellery sets, vintage collections, pendants- single and multi-stoned and men's jewellery- vintage cufflinks, belt buckles. They have a variety of over 100 stones available including popular stones like amber, boulder opal, rose quartz, garnet, amethyst, onyx, turquoise, citrine, aquamarine and jade.
Sarah Designs Jewelry has collected over 1098 reviews from customers with the Kudobuzz Reviews App, which serves as social proof to new customers and shows how great their jewellery and customer service is. Here are a few five-star ratings from their website:
"Silvia R
I bought several bracelets and two pendants and am so happy with each piece. I can't wait to wear them! Sarah is very good and has excellent communication. Each piece comes beautifully wrapped. I am a repeat customer and look forward to many more purchases."
"Brandi • Verified Reviewer
The silver chains are perfect! They came quickly with very nice packaging and the customer service was excellent. I will definitely be back for more silver."
"Vivian • Verified Reviewer
This is my second purchase from Sarah and this piece is absolutely stunning! Super craftsmanship, a real showpiece. Beautiful packaging and fast shipping. I will be back. Thank you!!"
"Patricia • Verified Reviewer
This piece is unique I have seen Charlotte but not with this combination it's very rare. Love it🥰❤️🥰❤️"
Sarah Designs Jewelry still actively participates in Tradeshows all over the US and Canada, although they are currently on hold due to the COVID-19 Pandemic. Post COVID-19 you will find Sarah Designs Jewelry at tradeshows in Tucson, Las Vegas, New York, JIS Miami Beach, Denver and Chicago. Mark your calendars and make it a point to attend when the time is due.
They also have a showroom at the Aberdeen Square Mall in Richmond British Columbia, Canada.
When asked for advice for upcoming business owners Sarah kept it simple, "keep innovating and be open to change."