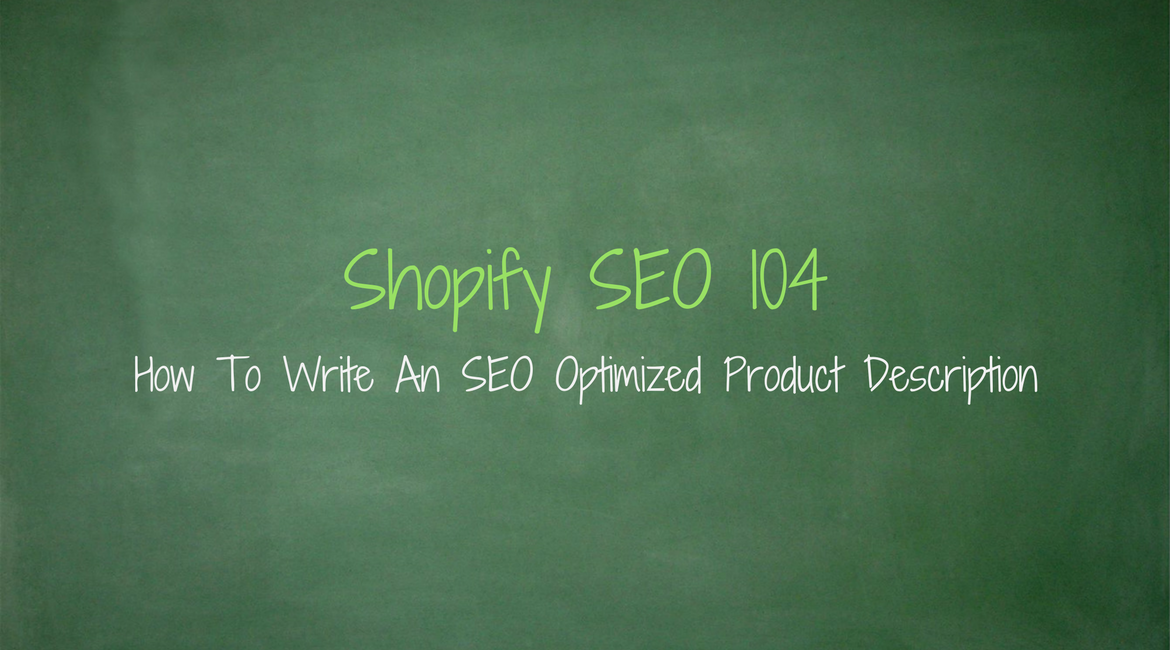 How To Write A SEO Friendly Product Description For Your Shopify Store
Online buyers look for the products that satisfy their needs. They can simply compare an online product with the one available at a brick and mortar shop. The internet has made it that easy.

In the online shopping world, the SEO friendly product description is not only for search engines but also to convince the visitors. You should write optimized content to cater to the needs, expectations, and common search behavior of users. The moment you start writing just for the search engine, your product description may start lacking the power of engagement and conversion.
What is an SEO friendly Description?
An SEO friendly description is one that is engaging. It has to be readable by both users and search engines that constantly scan and index your page.
Here are few guidelines that can be followed to help you craft an SEO friendly product description.
1. Define your target audience
Every product has a target audience. But how you will be able to use that depends on you how well you can define your target audience and target it.

You will be able to write better sales copy for your product when you know of the people you are going to sell. You should create a buyer persona and refer to it each time you write a product description. To start creating the buyer persona, understand the common behavior of your target audience and research about their pain points.
2. Use the language of your customer
The choice of words for a product description is critical and depends on your target audience. Every individual has his or her own level of vocabulary which they can easily understand. While writing an essay for university graduates, you may use difficult words. But, when it comes to the readability of a common user, every write-up needs to be simple and in plain language.

While shopping online users do not expect to confront words they are not very familiar with. For an ecommerce website, whether your target is an old doctor or a millennial teenager, it's better to avoid verbose words and just keep it simple.

In this fast-paced era, no one wants to spend a lot of time in your store just to know a product. They want a few simple sentences to find what they are looking for.
3. Highlight The Key Features
Highlighting the key features of your products is very vital as not all users are going to read long descriptions you put beside your products.

You can write short and brief descriptions that state what the product is about or does. After that is done, you can have a space right underneath or beside the product where you list the most vital features of the product. Take a quick look at the screenshot below.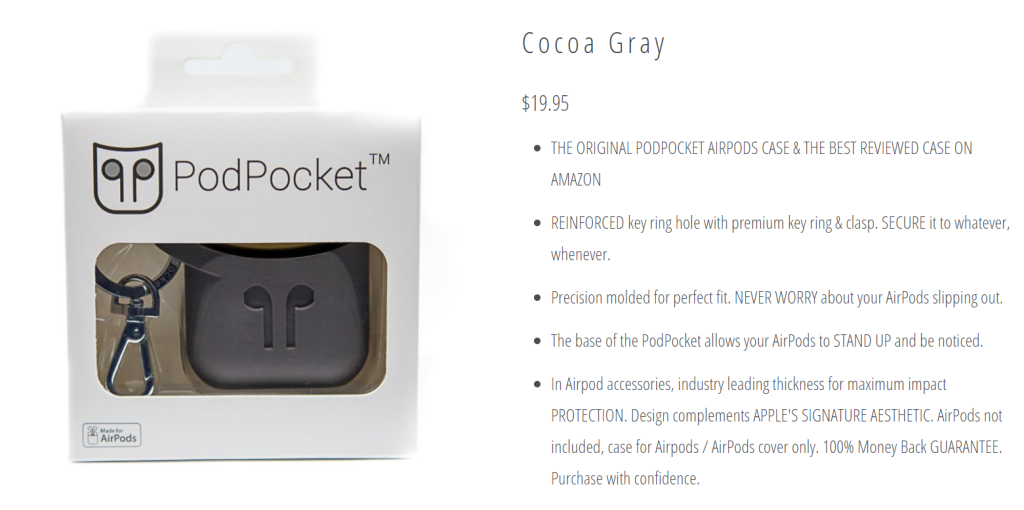 4. Add Keywords Strategically
Once you are done with the keyword research for your Shopify store, you should profoundly use them in the product description. However, throwing keywords all around your product pages is just going to harm your ranking. Search engines are going to be scanning your entire paragraph to see how meaningful your content is and what value it provides. am.
Below are some tips to help you write an SEO friendly product description.
Do not only write descriptions with search engines in mind

Use your Primary and Secondary keywords naturally but avoid keyword stuffing. Try to have the keywords at the starting and ending of the description.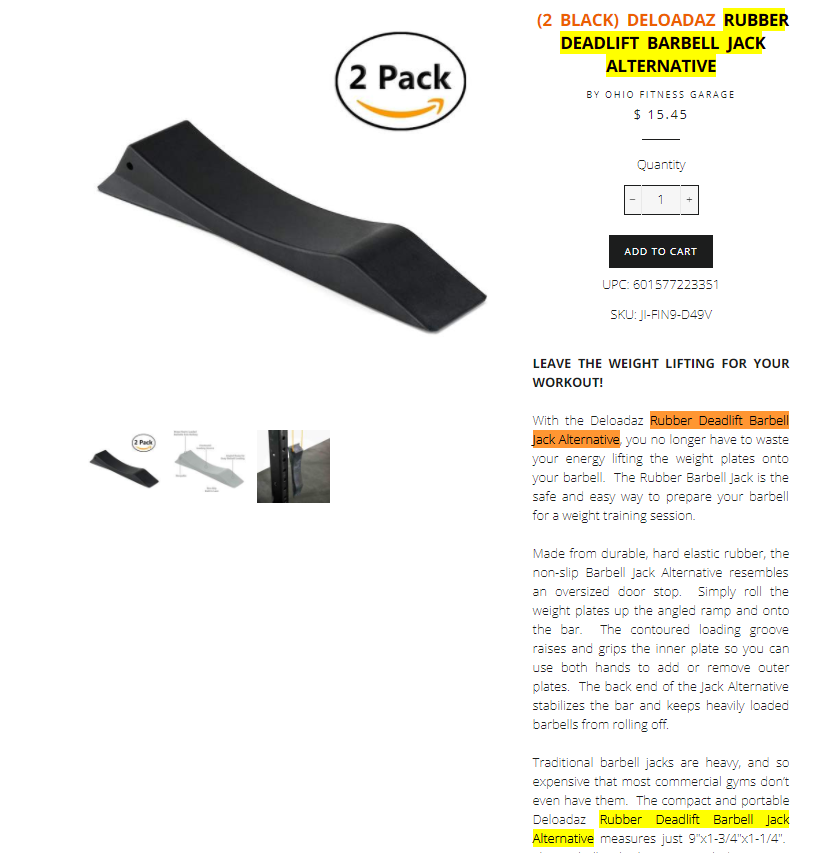 Write the description as informative as possible with all the specification, benefits, usage and unique features of your product.
5. Be Informative
Search engines are on the lookout for informative content, so, make your product pages informative as possible. You can do so by making mention of the benefits and uses rather than praising the product all over the page with phrases like "the top", "best selling", "most demanding".
These kinds of descriptive phrases can end up harming your brand. An SEO friendly product description points out the core features and benefits it has rather than being more promotional.
6. Be Realistic
Am I the only one or have you also seen a product that claims to be the best on the market but you very well know that's a lie!!
There is no need to exaggerate the value or prominence of your product to attract more visitors. Obviously when people try it and it does not meet the standard you so acclaimed, they will write negative reviews which will harm you lot in long term.
Instead, explain your added benefits compared to what is already on the market.
7. Keep It Simple
Keep your descriptions as simple as possible.
Writing an essay for your final project may require you using some difficult words but when it comes to writing a copy for a common online shopper, your grammar needs to be very simple and in plain language.
There are tons of online stores and nobody is going to be wasting their time on your site trying to break down complex grammar to understand how your product works for them.
Final Thoughts
Writing SEO optimized product descriptions is a continuous process. Whenever you finish up writing sales copy, you review it after a certain period and find more room for improvement.
There are many ways of describing a product, but you need to select a tone according to your buyer's persona and highlight the features that are high in demand.
To succeed in your product niche, you need to fill in the missing links by crafting an SEO-friendly description that exclusively highlights the most important benefits of your products and makes you the best choice for potential buyers.