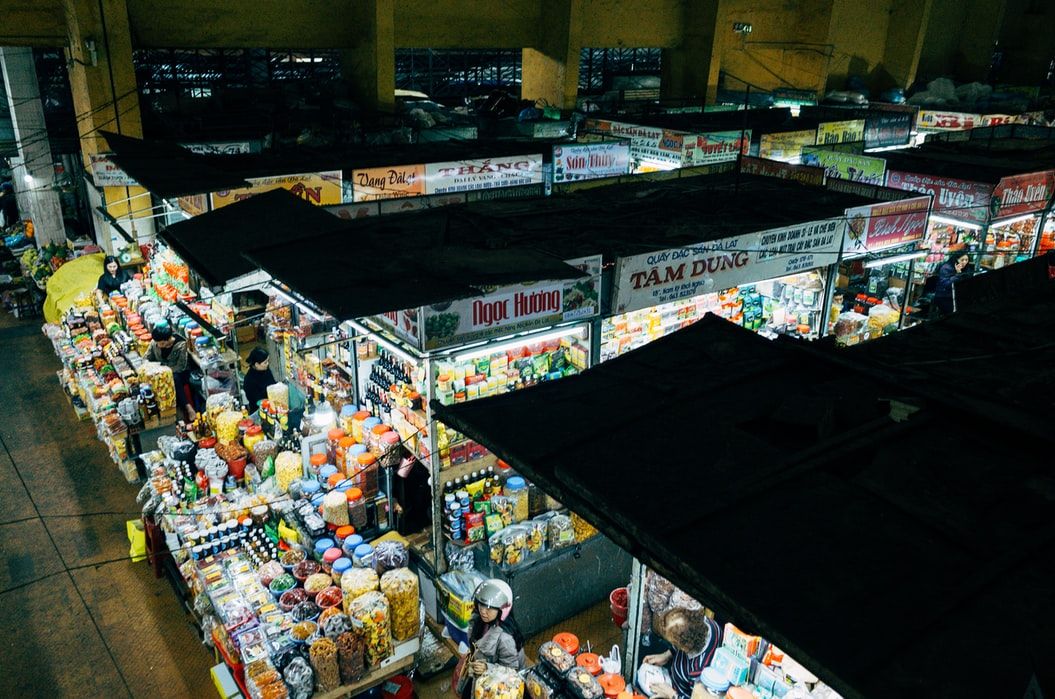 Wix Vs. Shopify Vs. BigCommerce: Which One Should You Choose?
Are you thinking about starting an eCommerce store?
You might have chosen what you're going to sell and started mapping out a marketing plan. But before you can begin these tasks, you're going to need a reliable platform to send all of your customers to.
A quick Google search will inundate you with options. Many of them seem to include easy-to-use templates, site hosting, and a simple method of getting cash into your account. When you start narrowing down the players, there are three providers that consistently stand out: Wix, Shopify, and BigCommerce.
Now the question is, how do you distinguish between these three brands? There's no need to test run their free trials. You can find everything you need to know here to make a conscious decision about the right one for your eCommerce business.
Why You Should Choose Wix
Wix originally started as a website builder brand. But in July 2017, it became the leading global eCommerce platform. It's got over a hundred million users and boasts more than 500 slick and professional templates.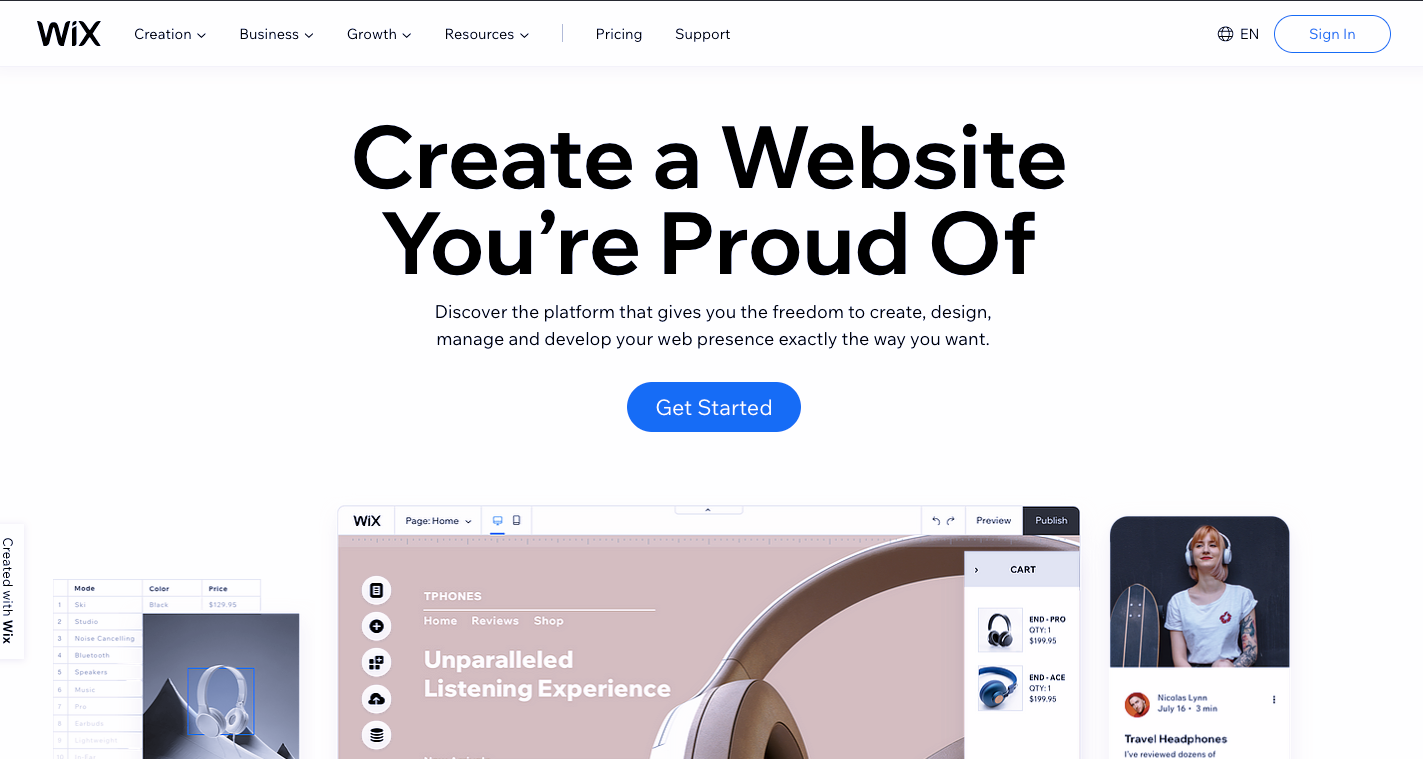 Key Features
Wix eCommerce packages pack a lot of punch. Here are some of the features that come with the majority of plans.
Large selection of professional templates
Drag and drop store builder
Mobile-friendly options
Tax management and global shipping options
Secure shopping carts
Simple order tracking
AI that can help build and design your website
Dozens of widgets and app services
Free hosting
Pricing
Wix offers three different pricing plans. The more you pay, the more features you're entitled to. Kindly note the pricing might show differently depending on your country.
Business Basic is $17 a month
Business Unlimited is $25 a month
Business VIP is $35 a month
Ease of Use
Fortunately, you don't need to have any technical ability whatsoever. The drag and drop tools are designed so that anyone can build a professional-looking website and sell their products or services online. You don't need to write a single line of code, and there are multiple apps you can install to include the features you need for a successful eCommerce business.

Pros
There are many reasons to consider Wix for your eCommerce platform. Here are some of the benefits of choosing it.
No matter what type of store you're building, you're bound to find a template for it.
You get free hosting and complete freedom to customize your store.
There is a dedicated mobile editor to make sure your store looks great no matter what device customers view it on.
The App Market includes many helpful widgets to automate your store.
The customer service is one of the best online, and the team is more than happy to help in any way they can.
Free add-on apps so you can sell on social media and marketplaces as well as develop loyalty programs through Smile.io.
Cons
Wix isn't perfect though. There are some additional considerations to think about before signing up for a plan.
The option to customize absolutely everything can be overwhelming for some users.
For most items, you're only able to customize the color and size.
Some changes aren't easily accessible in certain templates.
Verdict
If you're looking for an eCommerce store that's easy to build without any prior knowledge, then Wix is worth considering. Try Wix for free here.
Why You Should Choose Shopify
Building eCommerce stores is Shopify's specialty. The platform was designed from the ground up to help anyone start an online business. Today, over a million companies in 175 countries use Shopify to sell their products and services.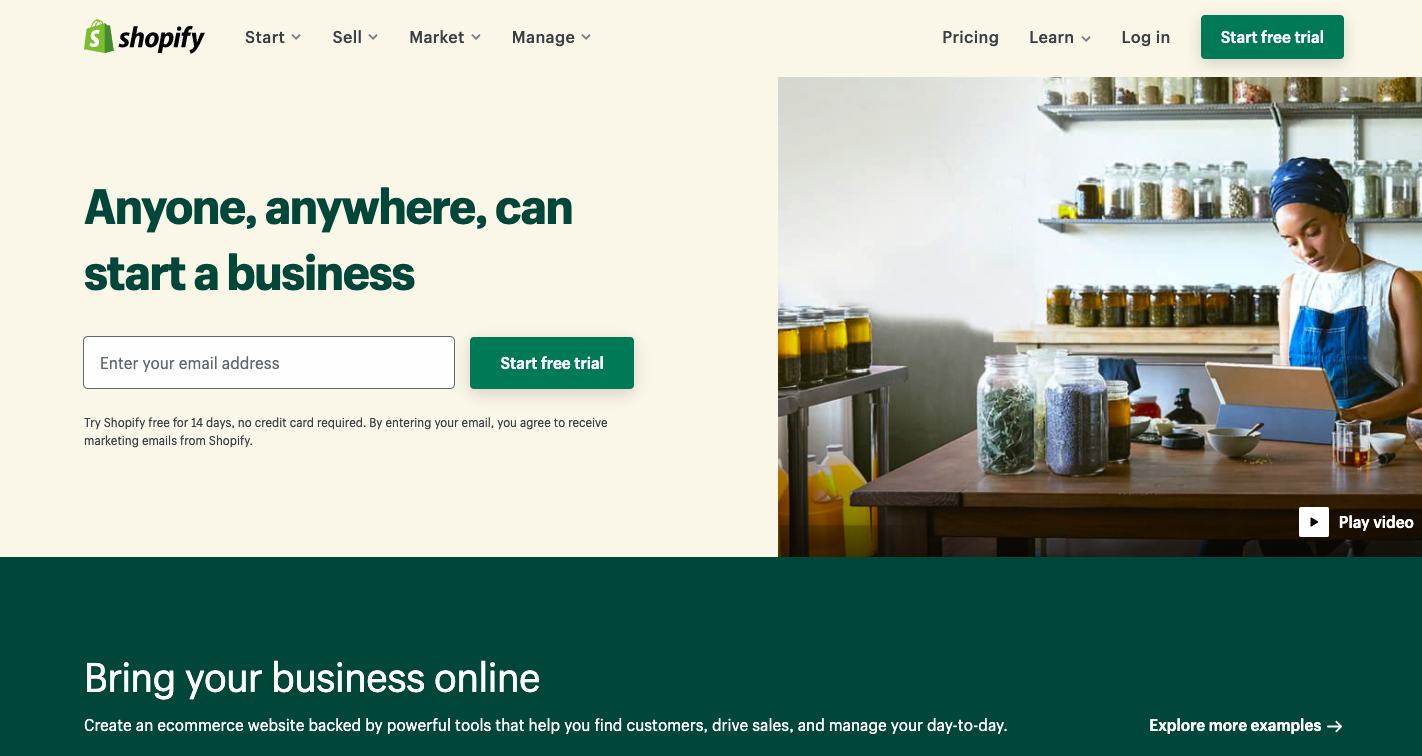 Key Features
As Shopify specializes in online stores, many of its features are perfect for anyone looking to get into eCommerce. Some of the highlights include:

Over 100 themes to choose from that cater to any type of store
Mobile-friendly sites
Opportunity to edit in HTML and CSS directly
Choose your own domain name
Simple website builder application
Blogging options available
Marketing and SEO tools included
Full analytic suite
Provides inventory management
Is capable of accepting from 70 different payment processor in multiple currencies
Pricing
There are three payment plans available for Shopify. Two are ideal for anyone new to eCommerce, and one is best if you're looking to host multiple stores.
Basic Shopify is $29 a month
Shopify is $79 a month
Advanced Shopify is $299 a month
Ease of Use
The Shopify platform caters to both beginners and advanced website builders. The tools and apps available make it simple to create an online store, and there are plenty of customization options for those looking to make their business stand out.
Pros
There are many reasons why Shopify could be the right eCommerce platform for you. Some of them include:
Shopify is ideal if you want to test an eCommerce business and see if it's for you.
As it specializes in online stores, the security features are top of the line.
There are multiple add-ons available to enhance your business.
You get access to helpful analytics so you can make informed decisions.

Cons
Before you sign up, some factors may put you off creating an eCommerce store with Shopify. These are:
In addition to the monthly fee, there are also transaction fees you'll need to pay when you make a sale.
The main three attributes for items are size, material, and color. If you want more, then you'll have to create these yourself.
Not all of the apps are free, so you'll need to consider this with your budget.
Verdict
Shopify manages to cater to both professionals and newcomers to eCommerce. It's got many fantastic features that can help you become successful, but just be aware of the additional fees for transactions and apps. Try Shopify for free here.
Why You Should Choose BigCommerce
BigCommerce is a relatively new player in the market, but it's made an impressive impact. Major brands like Ben & Jerry's, Black Diamond, and Skullcandy utilize the platform for their stores as well as over 50,000 other customers.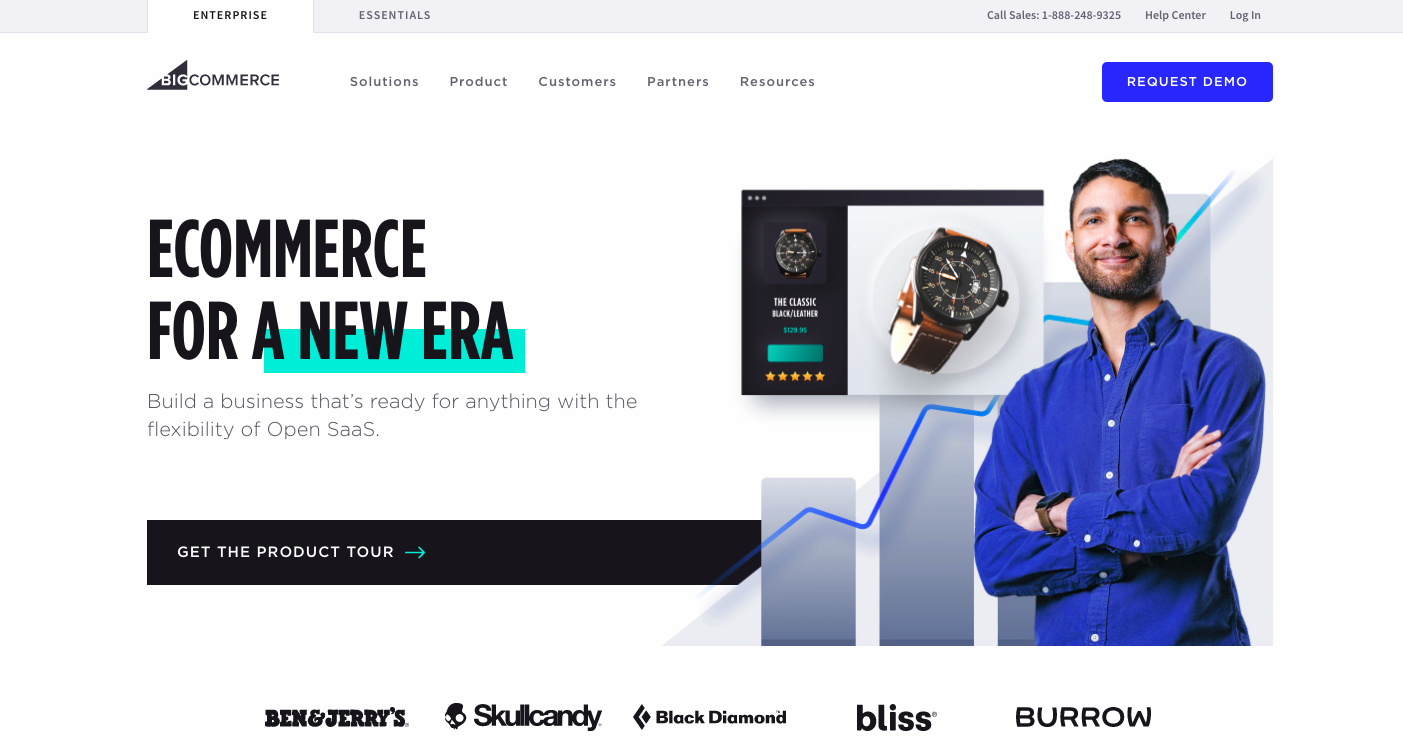 Key Features
A plan with BigCommerce comes with a host of unique features. Some of the best ones include:
No transaction fees
Extensive collection of free and paid themes that are also mobile-friendly
No requirements for third-party apps to manage inventory
Responsive customer support
Secure payment gateways that can accept funds from over 60 different processors in multiple currencies
Complete analytics suite

Pricing
There are three pricing plans for BigCommerce. Each one is designed based on where you are in your eCommerce journey. For Enterprise options, you'll need to get in touch with the sales team to discuss a custom cost.
The Standard plan is $29.95 a month
The Plus plan is $79.95 a month
The Pro plan is $299.95 a month
Ease of Use
BigCommerce tries to manage a lot of the work for you. Whether it's taking orders or analyzing the data, it attempts to make the job of running an eCommerce store as easy as possible. Creating discounts or coupons can be completed in a couple of clicks, and handling admin is effortless.

Pros
There are several advantages of using BigCommerce over other platforms. Some of the key ones include:
All of the tools are simple and easy to use, that anyone can become a web designer in seconds.
There are plenty of free and paid themes that work fine on their own or can be customized with an HTML/CSS editor.
The support team doesn't just handle issues. They can provide advice on how to improve your SEO and social media awareness.
The platform can handle multiple currencies at once.
Cons
While BigCommerce is a fantastic platform, there are a few additional facts you should know before deciding that they're the right eCommerce brand for you.
Some themes are costly to purchase.
BigCommerce doesn't have as many templates as Shopify or Wix.
You can't manage your store on a mobile app.
Verdict
If you're ready to make your eCommerce store bigger and better, then BigCommerce is worth a look if you need to operate at scale and want to take it to the next level. Try BigCommerce for free here.